Proposed Development to Date
Development plans for the Foothills Knoll have been active from City Council's perspective since at least 2011, and likely much sooner than that behind the scenes. Some property owners of the area have held the property for decades, as a future investment and anticipating development would eventually occur. Now that the Silver Star Foothills have been fully developed, it is virtually certain the upper part of the knoll will be commercially developed. Likely sooner than later.
This web page will focus on development plans, and eventually development activity. This will help provide transparency for stakeholders and engaged citizens. For now, we have assembled publicly available information, mostly from City Council and Planning, and will continue to post updated information as it comes available.
Development Properties on Foothills Knoll
There are three development properties that share the knoll — 7250, 7376 and 7470 Hitchcock Road. There are several others that sit below the knoll. Any plan to develop Foothills Knoll Park will most certainly involve all three properties.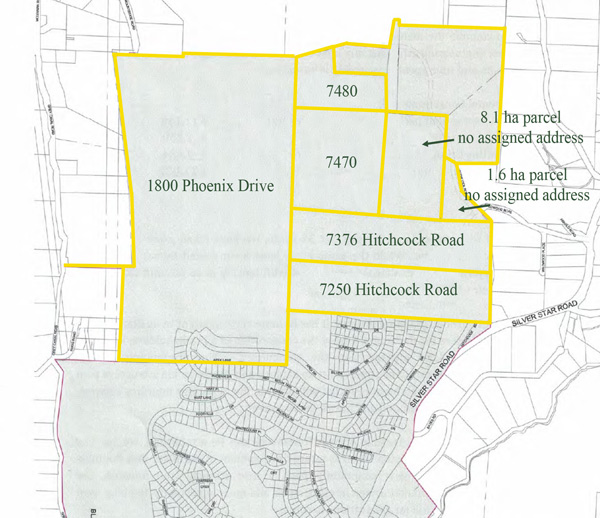 Owners of two of the three properties have presented development proposals to City Council — 7250 Hitchcock Road and 7470 Hitchcock Road (aka Country Springs). The two development proposals did include allocations for parklands, but each was presented in isolation without consideration of the other properties or an overall park strategy. They are discussed below.
7376 Hitchcock Road was sold in 2018. Owners prior to or after the sale have not suggested any plans to develop the property. However, the new owners have indicated they are keenly interested in the development of Foothills Knoll Park. They would like the city to draw up a more detailed master plan that prioritizes the park, rather than the current piecemeal approach that subjugates parkland development as an afterthought to real estate development.
Rezoning Application
7250 Hitchcock Road (2018)
In the Fall/Winter 2018, City Council held public hearings on the rezoning/development proposal for 7250 Hitchcock. This is the 15.65 hectare section right above the current Foothills development.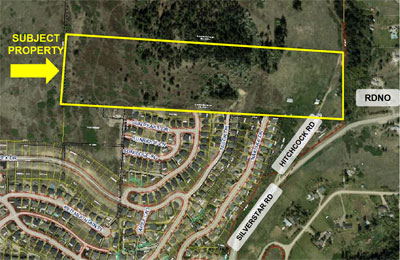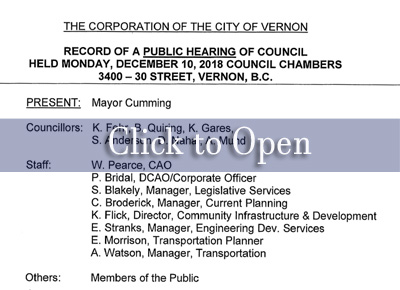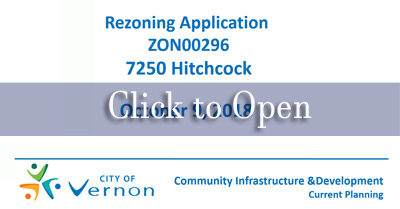 Among council recommendations prior to proceeding with the rezoning is "... registration of a Section 219 "No Disturb" Covenant on the remnant parcel that would restrict future subdivision or development until the approval of a pre-plan, consistent with the Foothills Neighbourhood Plan, that would identify the location of a future road network that respects sensitive areas including seasonal water bodies or drainage courses, ensures access to lands beyond, and provides for future parks and trail connections."
Significantly as part of Phase 2 of the proposed development, council requires the construction of a new reservoir at a higher elevation. Phase 1 would be serviced by the existng Sun Peaks reservoir.
Council recommendations are predictably light on explicit comments regarding the development of park land. The proposal does, however, suggest that park land would be reserved.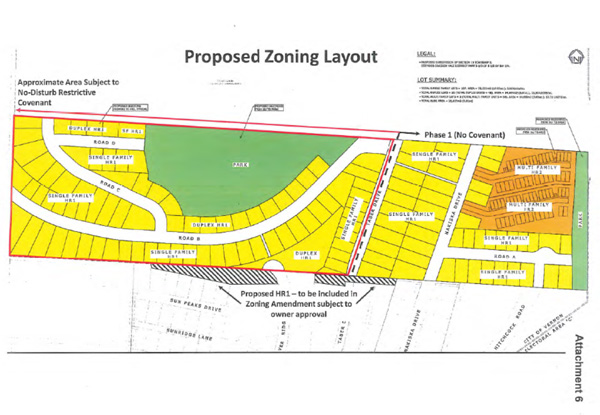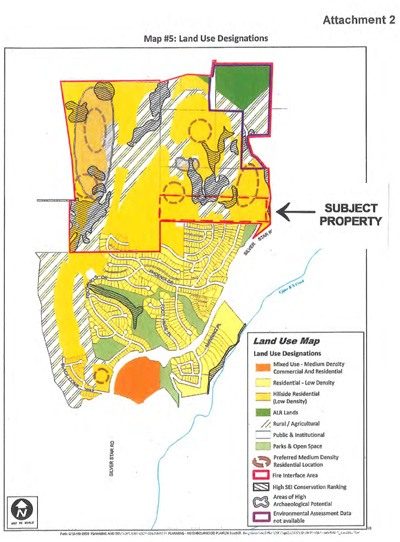 Country Springs Proposal (2011)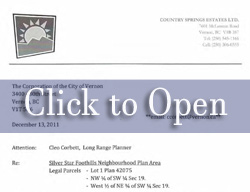 The Country Springs proposal (2011) is a conceptual land use and road network for the 30.67 hectare site on the North side of the Foothills Knoll. The Country Springs proposal is for a Residential Strata Development.
Interestingly, the proposal indicates that slopes exceeding 30% account for approximately 10.98 Hectares or 35.8 % of the property. Area with slopes less than 30% account for approximately 19.66 Hectares or 64.2%.
The proposal suggests developing all the property with less than 30% slope (19.66 hectares). And further suggests that the types of housing will not to be limited to Single Family and Duplex homes. It anticipates that the area will comprise 491 Dwelling units.
Proposed Parks and Open spaces would effectively comprise the property with slopes greater than 30% plus other remnant pieces of land, totalling 12.2 hectares, which would remain largely undeveloped. The proposal further anticipates developing a dedicated 2.2km "Foothills Loop Trail," which would "provide the ability to access nature and viewpoints by way of a continuous level walking loop which follows the topographical contour at elevation 800m along with accompanying internal destination trails." The trail network will in turn connect to the "Ribbons of Green" Trail System. The proposal encourages collaboration with other stakeholders, and will aim to extend the proposed trail network and integrate connections loops and trail heads in a way that supports feasible infrastructure construction and promotes a walkable Foothills neighbourhood."